About Animal Inn Pet Resort & Spa
Originally known as the Animal Inn, our lodging facility was built in 1966 with 58 indoor/outdoor rooms. Since then, we have updated and added to our facility to include luxury suites and more indoor and outdoor space for your furry family to play. We are unique in that we have incredibly large outdoor play spaces. With over 40,000 square feet of outdoor fenced in play areas with both natural and K-9 grass available, your furry family will get to enjoy the outdoors! While we do use our indoor play areas in inclement weather, we ensure your pup will always have an opportunity to go potty outside, helping prevent any potty training issues.
We are also unique in that our owners, Katie and Corwin Cheng, are incredibly experienced in the animal field and have the experience and education to know what your pet needs in order to have a healthy and happy stay.
Katie and Corwin have over 25 years combined experience working with animals. They both hold college degrees in Animal Behavior Management, Exotic Animal Training and Management and Wildlife Education from Moorpark College's esteemed Exotic Animal Training and Management (EATM) program. Corwin also holds a B.S. degree with a major in Animal Biology from the University of Alberta while Katie also holds a B.S. degree with a major in Biology and Psychology from the University of North Dakota.
After graduating from the EATM program, Katie went on to work at the world famous San Diego Zoo as a Senior Animal Trainer for nearly 10 years working with ambassador animals such as cheetahs, wolves, porcupines, owls, sea lions and more.
Meanwhile, Corwin went on to run one of San Diego's top boarding and training facilities, Beckman's Dog Training, where he specialized in working with fearful and reactive dogs.
As owners, your furry family members wellbeing is their #1 priority, and you will often see both Katie and Corwin working throughout the facility getting to personally know your pets. They also personally help train our staff members. Our staff are highly trained and don't just learn from online programs or booklets taught by others. They are taught and overseen in person by industry experts.
We know that pets are part of the family, and we treat them as such. We surpass the industry's highest standards of cleanliness, safety and care and we hope to get a chance to bring your pet into our Animal Inn family!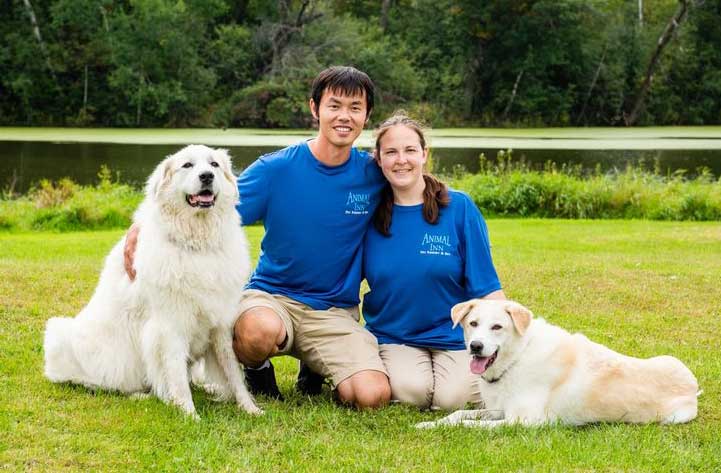 Get 10% Off First Boarding Stay!
Receive a 10% discount off your first boarding stay when you choose one of our FUN Activity Packages!