About Animal Inn Pet Resort & Spa
Originally known as the Animal Inn, our lodging facility was built in 1966 with 58 indoor/outdoor rooms. A few short years later, business was good and a second building was added, providing even more space to care for pets.
Katie and Corwin Cheng have owned Animal Inn since March of 2019, purchasing it from the previous owners who had run Animal Inn since 1986. We are so excited to not only continue the great care at Animal Inn Pet Resort and Spa, but we are thrilled to grow the business to add even more fun activities and programs for your pet!
Katie and Corwin Cheng are highly qualified owners and have over 25 years combined experience working with animals. They both hold college degrees in Animal Behavior Management, Exotic Animal Training and Management and Wildlife Education from Moorpark College's esteemed Exotic Animal Training and Management (EATM) program. Corwin also holds a B.S. degree with a major in Animal Biology from the University of Alberta while Katie also holds a B.S. degree with a major in Biology and Psychology from the University of North Dakota.
After graduating from the EATM program, Katie went on to work at the world famous San Diego Zoo as a Senior Animal Trainer for nearly 10 years working with ambassador animals such as cheetahs, wolves, porcupines, owls, sea lions and more.
Meanwhile, Corwin went on to run one of San Diego's top boarding and training facilities where he specialized in working with fearful and reactive dogs.
We are a highly accredited family owned and operated facility and members of the BBB. We are proud of our trained staff and excited to share our extensive knowledge with our staff members to accomplish our mission of providing the highest level of care for your pet. We know that pets are part of the family and we treat them as such. We surpass the industry's highest standards of cleanliness, safety and care and we hope to get a chance to bring your pet into our Animal Inn family!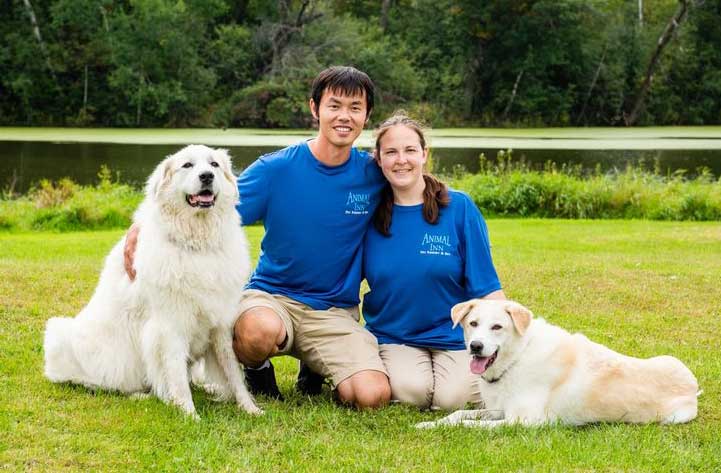 Get 10% Off First Boarding Stay!
Receive a 10% discount off your first boarding stay when you choose one of our FUN Activity Packages!